DSTV E48-32 SIGNAL ERROR  "BAD OR NO SIGNAL"
Fix dstv e48-32 there is no signal due to bad weather or a faulty connection to the decoder, This error is explained further below on how to fix the dstv bad signal error online
Dstv e48-32 error is mostly shown due to bad weather or faulty installation a very known and common dstv fault. this is the most biggest and widely reported error on dstv which simply means the decoder has no satellite feed or signal from the dish.
Most time its caused by heavy down pour of storms and winds mostly at the coastal areas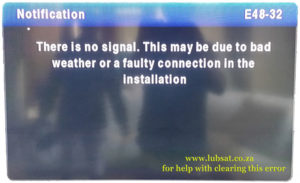 So why does the error show even when the weather is just fine and there is no rain at my house, this is the question most users ask and we have answered all this on this website,
Now there is also a no signal on communal dish installations and this is also diagnosed in a different way most times you will find the whole system down or partially your own unit only.

In this post we shall try to discuss what the error e48 32 is on your dstv screen, We shall help to reply you questions and also welcome your answers in this post. We also fix dstv e48-32 in Johannesburg, give us call
DSTV E48-32 CAUSES OF THE  ERROR INCLUDE
Blown out equipment, Dish mis-alignment, Faulty decoder /hardware, Wrong cabling, Small signal levels, Stormy Weather , Solar outages , Rain Fade , explora wrong frequency settings. fault in communal dish system, communal dish settings error, incompatible hardware.
An illustration to show why there is no signal on the dstv during rain.
Call us for technical installations and re-alignments. we fix dstv error E48-32 on your Explora or Dstv decoders, Freezing picture, channels missing, No signal, No box office, Low tuner levels We are Ellies accredited installers , Work guaranteed. Why not call us today ?
HOW TO FIX E48-32 ON MY DSTV EXPLORA
• Re check cabling coming from dish to the decoder.   
      – Check / try restarting your decoder • Re align satellite dish, to gain more signal levels, cause might be you are receiving low signal •
For more information call us         0110 838 281

This dstv error post and forum is here to give a guide line on how to solve the error, please not that its a technical error and at most time will be intermittent or will never go away, we recommend calling us for installers in the Johannesburg and sandton areas
follow the forum for more posts and comments from other users, dstv south africa so much more